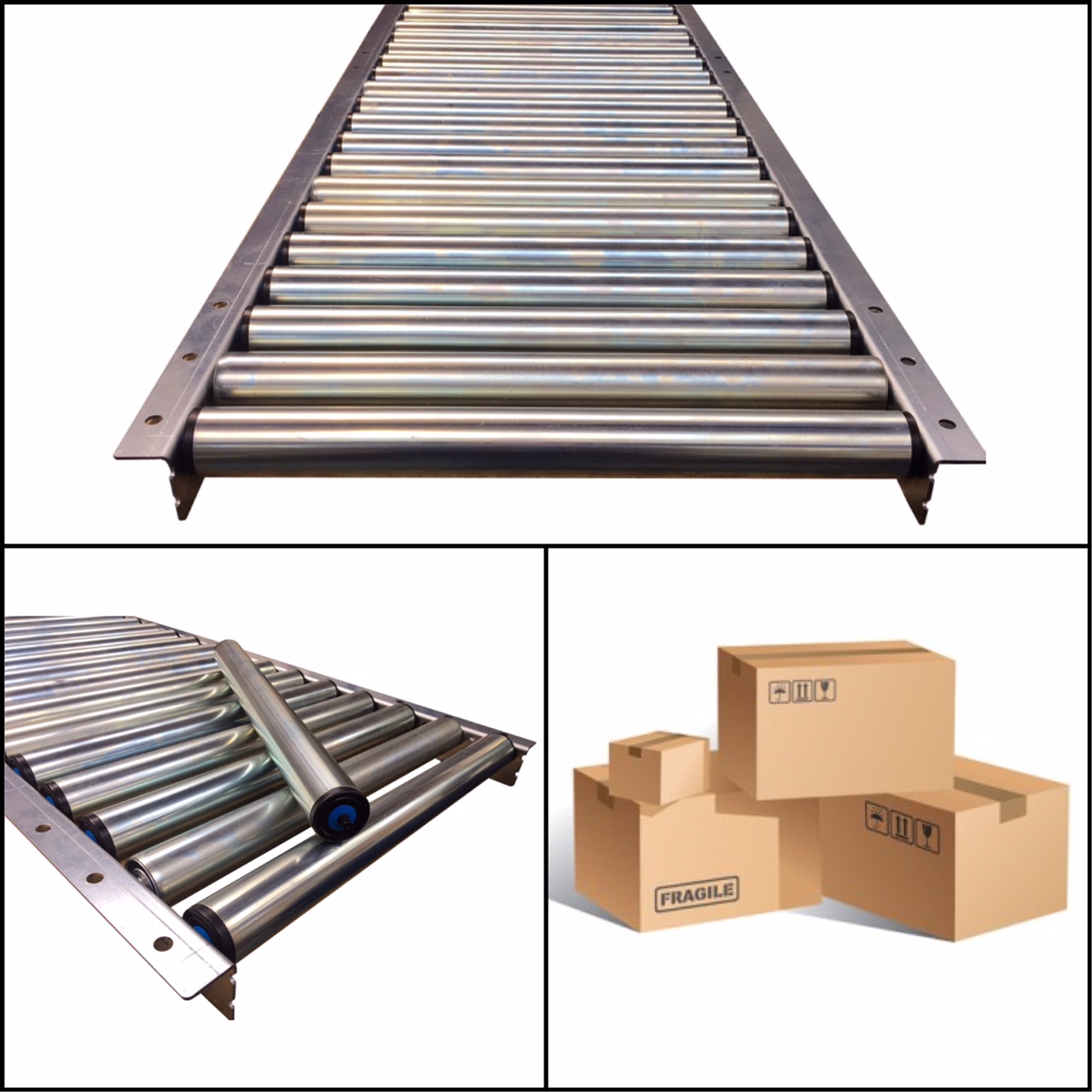 GTL Mid range Parcel Conveyor 5kg to 50kg boxes
Description
AED Gravity GTL low-cost conveyor track: Ideal for plastic Totes / Flat bottomed Packaged Items to travel with minimal effort. Available Lengths in singles our multiples of 1m, 1.6m & 2m long
Standard widths: 330, 430, 530, 630 *Alternative widths are available from 250mm to 900 wide. please ask for price
Helpful hints choosing the right conveyor:
1. What Length or multiples of conveyor required 1m, 1.6m or 2m? You can order any length combination to suit application.
2. Do I want plastic or Steel rollers? Plastic for light goods <20kgs & steel for goods upto 50kgs
3. What width do I need? Consider largest width of goods & select closest. If rollers are above frames, occasional oversized items can travel> Below frames, items cannot be over sized but will be more secure. Min. 50mm clearance between item width & conveyor width (BB) insure items travel freely.
4. How do I link conveyors together to make for a longer run? You will have to use our ADJ2 or ADJ3 stand to link. If you do not purchase stands, you will have to make your own arrangements.
Ø50mm Rollers BZP Steel ¦ Roller Pitch 75mm/ 3"

Width (BB)

Conveyor Length

Above Frames

Below Frames

330mm /13"

1m (975mm)

GTLA330-10

GTLD330-10

330mm /13"

1.6m (1575mm)

GTLA330-16-

GTLD330-16-

330mm /13"

2m (2025mm)

GTLA330-20-

GTLD330-20-

430mm /17"

1m (975mm)

GTLA430-10-

GTLD430-10-

430mm /17"

1.6m (1575mm)

GTLA430-16-

GTLD430-16-

430mm /17"

2m (2025mm)

GTLA430-20-

GLTD430-20-

530mm /21"

1m (975mm)

GTLA530-10

GTLD530-10-

530mm /21"

1.6m (1575mm)

GTLA530-16

GTLD530-16-

530mm /21"

2m (2025mm)

GTLA530-20

GTLD530-20-

630mm /25"

1m (975mm)

GTLA630-10

GTLD630-10-

630mm /25"

1.6m (1575mm)

GTLA630-16

GTLD630-16-

630mm /25"

2m (2025mm)

GTLA630-20

GTLD630-20-